We're focused on creating an EHR for clinicians that is influenced by clinicians, and that requires getting their insight on the process.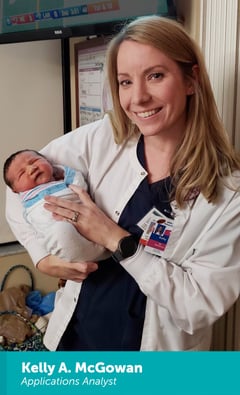 It's integral to the changes we're implementing in our EHR and it's a big reason why we send nurses–turned–employees like Kelly – not salespeople – to events like HIMSS.
As a critical care nurse with experience in everything from infection prevention to mother-baby and women's procedures, Kelly spent much of her nursing career adapting to change. She's seen the digital transformation and its effect on the nursing profession. We sat down with Kelly to get her sense of the HIMSS event and what excites her about the future of Juno EHR in the healthcare IT space.
Q: What have been the effects – positive and negative – of EHRs in the ER/critical care?
I started in the PCU with paper charts and actually kind of liked them. There were check boxes for your assessment and you could add a little soap note about the assessment or patient interaction, it felt more organic. With EHRs, the focus of nursing changed to an emphasis on documentation; more information to be collected, instances of double-documentation, nurses charting to satisfy charges, reimbursement, and regulatory needs. It hasn't all been negative, having real-time orders, electronic medication administration, and having the ability to have multiple team members in the chart at the same time -those are all positives as far as patient safety is concerned. Overall, hospitals and clinicians more than likely view the incorporation of EHR's positively.
Q: With each system being customizable, what about standardization?
Although our EHR is very customizable, the look and feel of the product remains true which can't be said about other EHR's. In a previous EHR a provider would ask for help putting an order in, canceling an order or making a change. it was difficult to help because the lack of standardization; the environments looked different. In Juno, the provider and clinician environments look and work similarly – allowing all team members to help each other.
Q: What was the buzz inside your booth at HIMSS? What feedback were you getting from doctors, nurses, etc.?
One person I spoke with – an office manager with a nursing background – said she was really excited. Her offices didn't share the same charting system and the staff was struggling. The biggest standout for her is that she could configure the system herself and that changes wouldn't have to be outsourced.
Q: What sticks out for clinical experiences in 2022?
From my perspective, the keyword is "experience." We need to ensure that the workflows for clinicians make sense and help ease their day so they're not always tied to the computer documenting but are able to focus their time on the patient.
Q: If you had to name one thing about Juno EHR that makes it a standout, what would it be?
Hands down, it's the fact that Juno is cloud-based. Most EHRs are server-based and when there was downtime, you never wanted to work that shift – or the shift before downtime. The additional work in preparation for downtime and then the cleanup following, is very, very time consuming. Our cloud-based EHR will still have periods of downtime but they should minimal. Other benefits of a cloud-based EHR include: improved data storage, flexibility, accessibility, and security.
Q: What brought you to Juno?
For me, my passion is still patients and nursing. I needed to step away from the bedside, but working with Juno is an extension of that passion. Now, I'm building the right tool to truly help providers deliver better patient care.
---
We've been working hard on Juno EHR, and we like to use events like HIMSS as a litmus test to see how we're stacking up against what's already out there. Accounting for the clinician perspective is integral to what sets us apart and having former nurses on staff to help guide our decisions is proving to be a real gamechanger.
Our interview with Kelly is the final installment of this three-part series. Follow for more HIMSS insights from our booth crew.