Michael Archuleta, CIO at Mt. San Rafael Hospital, Calls for Change at eHealth Initiative Webinar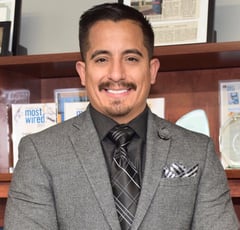 It's no secret that burnout among healthcare professionals is on the rise since the start of the COVID-19 pandemic. Advances in technology can ease the burden on physicians and nurses—but is tech helping or hurting?
Leading healthcare CIO Michael Archuleta took part in a recent webinar hosted by the eHealth Initiative to discuss this timely topic. Joining Archuleta on the panel were Dr. Matt Lambert, chief medical officer at Curation Health and Dr. Steven Waldren, chief medical information officer for the American Academy of Family Physicians. Jen Covich Bordenick, CEO of eHI, moderated the discussion.
Archuleta argued strongly that while many provider organizations, physicians, and health plans see the value in moving away from a fee-for-service care model and toward a value-based care model, that shift will fail without a reprioritization of how IT is applied in healthcare.
The Dire State of Current Medical Practice: Impact of Outdated Healthcare Technology
Current practices supported by antiquated technology are so bad that Archuleta called the technology a "disservice to the practice of medicine." It's resulting in unprecedented levels of physician and nurse burnout, spoiling careers and costing medicine many talented practitioners. Where technology is applied, it's hampered by interoperability issues caused by proprietary systems and the lack of data normalization standards.
This sad state of affairs has left the medical profession far behind other industries that serve people—and none of those industries are dedicated to saving lives! Properly understood and applied, technology could be delivering better automation, streamlined workflows, and a better quality of life for caregivers.
The Call for Change: Technology as a Tool for Better Outcomes
Being on the front lines, Archuleta has made his career fighting these issues. He called for the medical community to adopt a new vision for change, saying, "What's needed is not just a technology makeover, but a business revolution." Only then will technology move from being seen as a cost center to a strategic tool that creates better processes for better outcomes.
The roots of the current crisis go back decades. But Archuleta called out specifically how the ACA mandated the adoption of EHRs over a decade ago. Those legacy EHRs promised much but were glorified billing systems designed with no clinician input or consideration.
Vision for the Future: A Need for Interoperability and User-Friendly Electronic Health Records
Healthcare IT execs and physicians need to work smarter and be supported by technology, not frustrated to the point of burnout. For that to happen, the healthcare industry needs real interoperability, exchange of data, and ease of use of electronic health records to successfully make the value-based care transition and improve patient lives.
Archuleta calls for technology to "let physicians be physicians." That's why we're proud to feature him here on Health & Care Perspectives.
EHRs should be used as tools to help physicians take care of patients and focus on their care. Physicians need to be able to view a patient's history, current status, and plan for the future within one platform that is easy to use. Electronic health records should not feel like another burden for clinicians but rather a tool that actually improves efficiency and productivity in their practices.
It's Time for a Healthcare Revolution
As we've heard from leading healthcare CIO Michael Archuleta, the time for change in the healthcare industry is now. To combat physician burnout, safeguard careers, and protect patient care, we must focus on reprioritizing IT in healthcare, adopting interoperable systems, and ensuring that technology serves as an aid rather than a hindrance to physicians and medical practitioners.
As we strive toward a shift from fee-for-service to value-based care, technology needs to be seen as a strategic tool rather than a cost center. This is not just a call for a technology makeover, but a call for a business revolution.
Let's take the steps necessary to embrace technology that lets physicians be physicians, improves patients' lives, and champions value-based care. Watch the full webinar to learn more about Archuleta's insights and join the conversation.